History & Establishment
The building materials market in San Francisco in the 1850s was booming. Between the gold rush and the San Francisco fire of 1851, there was a massive demand for lumber in the area.
Most of the coastal redwoods (Sequoia sempervirens) were cut down for lumber except for a small valley called Redwood Canyon. This canyon changed hands a couple of times but was mostly saved due to its relative inaccessibility compared to other forests in the area.
William Kent and Elizabeth Thacher Kent purchased the 611 acres of land in 1905 for $45,000. The Kents were environmental conservationists who were eager to save the Redwoods from San Francisco's explosive growth. Rather than have the area seized by eminent domain to build a new dam, the Kents donated 295 acres directly to the federal government in 1907.
The process of becoming a National Park is long and arduous, usually taking several years and requiring Congressional approval. The Antiquities Act of 1906 allows presidents to bypass this process and to create National Monuments from federal land without any need for Congress to be involved.
In 1908, President Theodore Roosevelt created Muir Woods National Monument, which is the first National Monument to be created from lands donated by a private individual. Instead of Kent Monument, the Kents asked for the land to be named after John Muir who was instrumental in creating the National Park System.
Getting There
A trip to Muir Woods will require a bit of planning. You can drive directly there but you will need advanced parking reservations. The winding roads and hairpin turns make the last 20 minutes or so of this drive tough. If you are someone who gets easily carsick, I would definitely recommend taking a Dramamine and sitting in the front seat.
Another option is to use the shuttle service to park offsite and take a bus to the monument. This might be a better option if you need a guaranteed accessible parking space. More info is available at gomuirwoods.com
Our Trip
Muir Woods popped up on every must-do list I read when planning our family vacation to San Francisco. We rented an Airbnb in nearby Mill Valley which made an excellent home base for our trip. We made an advance parking reservation and drove into Muir Woods directly. I was not prepared for how wet and chilly San Francisco is in January and ended up putting on sweat pants over my jeans.
Muir Woods makes an excellent introduction to our National Park System because it is so small and accessible. You can go for a day trip and have more than enough time to enjoy everything the area has to offer.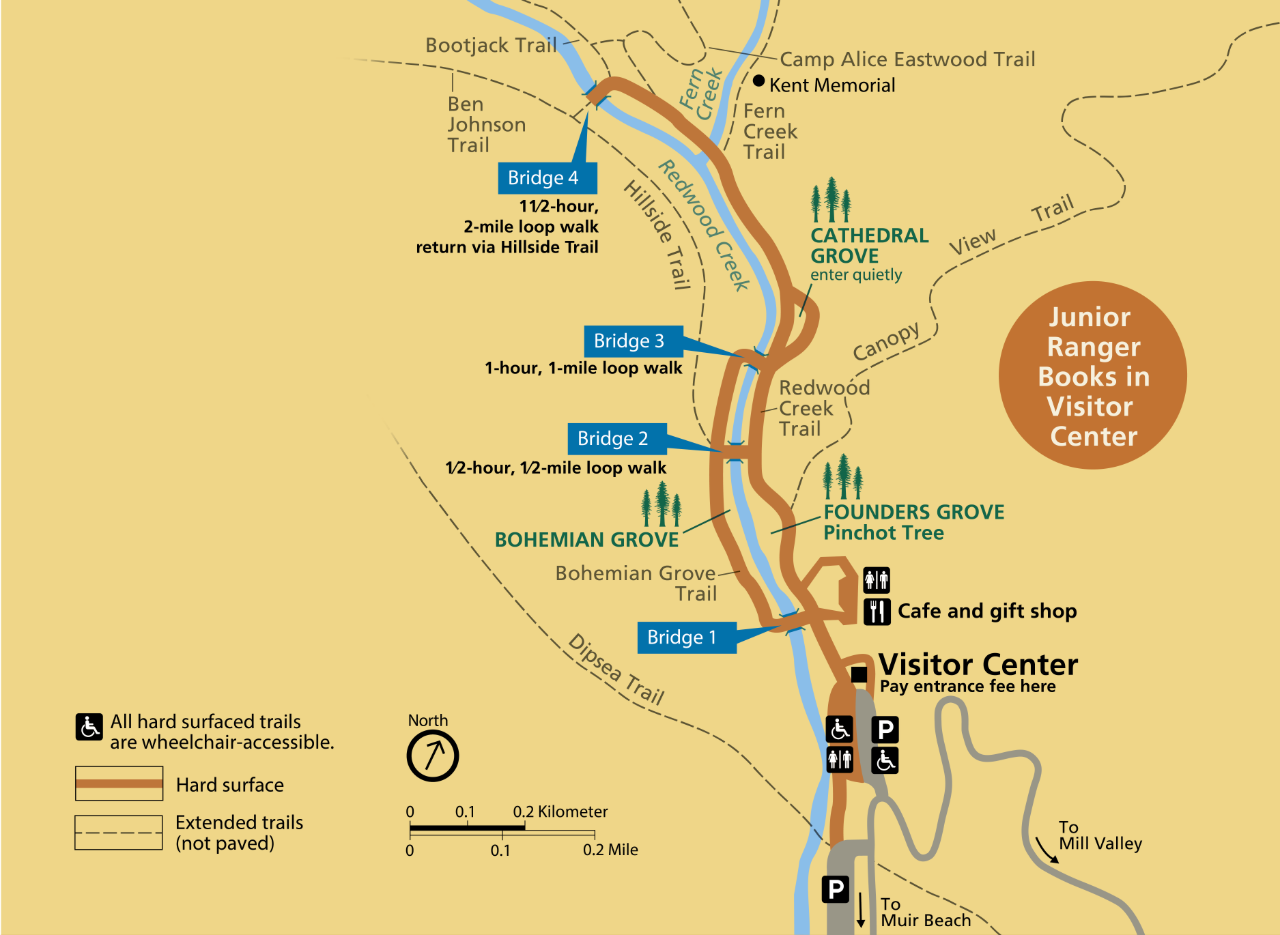 At time of posting, I am now 23 sites into my journey and this remains my favorite. In fact, nothing has come close to Muir Woods. The trail is perfect for wheelchair users and has multiple loops for you to customize the length of your visit.
Many of the extended trails were closed due to fallen trees. A park ranger explained that these particular Redwoods grow differently from the rest of the California Redwoods. Redwoods are known for their size, but the Muir Woods trees are skinnier and taller than their Northern counterparts. Their root systems are shallow, sometimes only 10′ deep, but they can spread out 60 to 80′ from the tree. They tend to grow in clusters or groves for added stability.
Cathedral Grove is a cluster of the oldest trees in Muir Woods. Signs ask you to enter quietly and tread softly. It is a perfect place for quiet reflection and to let yourself be moved by just how old these trees are. At 600-800 years old, they are just entering middle-age.
After a cold and rainy walk on all the paved trails, we made our way back to the visitor center for a hot beverage and cancellation stamp. I've since cannibalized my little passport book into my more serious Explorer Edition binder.
Accessibility – 9/10
This site remains the most accessible place I've visited. The paved trails are perfect for wheelchairs. There are also audio guides and braille brochures available at the visitor center.
More info:
https://www.nps.gov/muwo/planyourvisit/accessibility.htm
http://www.wheelchairtraveling.com/muir-woods-national-monument-by-san-francisco-is-accessible-for-wheelchairs-and-travel/
Final Thoughts
I cannot recommend Muir Woods National Monument enough and I will absolutely be visiting again the next time I'm in the San Francisco area. I'm looking forward to enjoying this site for many years to come.